Most communication these days occurs via technical means even when we aren't locked down for a pandemic. We get a text from a family member, FaceTime with a friend or share information via social media.
So for most of us, getting a greeting or note card or a handwritten note in the mail is an oddity. It can also be a pleasant surprise.
I have a fun idea for you that can be a sweet surprise for someone else. If you would love to surprise someone with a personalized message especially when physical contact isn't possible read on.
You can recognize and surprise a neighbor, friend or someone nearby. Do a social distancing drop-off by walking over and placing it on the doorstep where they'll see it or mail it to someone far away.
I have custom cards in my store with a wide variety of template greetings. This pandemic situation gave me an idea for the three cards in this post. They are all based around thinking of you, missing you or simply hello.
All three of my newest cards in this post allow you to change the cover and inside text as many of my products do. I'll explain the subtle differences below.
Step One
Decide whether you want to change the template text I have added for the cover and inside to give a more personal touch with a name or shared favorite saying.
Add a name to the cover, such as "Sandy, remember..." or add something on the inside that is personal to you and the recipient.
Maybe you and your correspondent share a favorite saying, poem, or inspirational quote. Just know that there is only so much room inside the card but you can always remove the inside text to leave room for a handwritten message.
Play around with replacement text ideas in the template fields. It's worth trying a few to see what does or does not look good.
Step Two
The second step involves replacing cover photographs. In this era we can find plenty of photos on our phone of good times together that we would like to share. Here's a way to share those snaps.
I mainly use photographs that I've taken for my Zazzle designed products so I don't care if you don't replace those but I've used the photographs from the free photo site Pixabay on the first two cards below so they are only placeholders.
I've set the photographs so you MUST replace the placeholder photo cover in the first two designs here with your favorite photo before you can order. Now that's personal.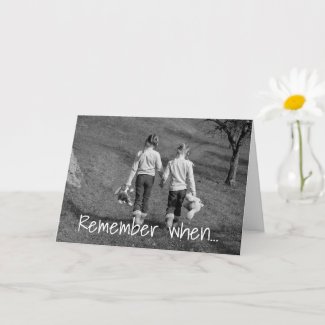 If you try to order the cards that require a replacement photograph, you will receive a message like this.
Simply click the "personalize this template" in the upper right side of the page and you'll see where to make the photo replacement. A replacement photograph in the vertical or horizontal format of the card works best but you can always try a variety to see what works best for you.
Here is a greeting card featuring my photograph of a sunbathing colorful collared lizard. You can leave this photo on the card or replace it with your favorite shot before ordering. You will not see the warning message when ordering if you leave the cover as you see it.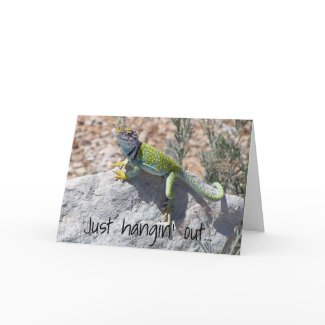 Miss You Lizard Sunbathing Add Your Photo Card
Step Three
Once you receive the card order and before sending it off to the recipient, you can get crafty and personalize it or the envelope even more with special stickers, a tiny bow/ribbon affixed somewhere or add Washi (seen below) or glitter tape.
It's easy to stay connected and surprise those who mean so much to you with a simple personal message so head to TheAspenStand for a look at the greeting card variety
.
Thank you for stopping by to read the post. I would love to read your thoughts so please leave a comment.