I have been reminded about the "Rule of Three"several times over the last year. My mind is now opened to how that number can be useful in many more circumstances than photography.
I've been aware of the rule of thirds in photography since I decided to improve my photo making skills long ago. The rule is one of the first things most beginners learn and use to improve their skill set. I don't always use it and sometimes forget about it
but I'm often reminded that one can be a little rebel so rules are made to be broken.
If you ran two lines horizontally and vertically on this puzzle photograph breaking it into thirds, you'll see that the chimney is placed at two points of interest (inserting lines) which offers more balance and interest. Compare it to an image where the subject is smack dab in the center of the photo. In most cases it's not as eye-catching.
Within the year during a business course lesson related to creative design work I was reminded of the rule of three (or any odd number for that matter). It made me focus on three elements in certain designs.
On this Christmas design I was able to use the three ornaments for the rule. It also holds the three elements of title, custom photo templates and bottom text to meet the three.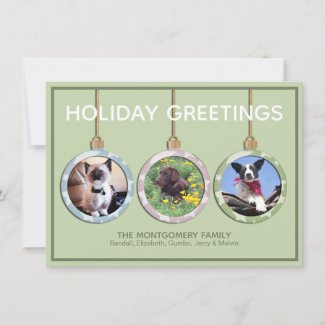 And most recently Carol Stephen of Your Social Media Works (@Carol_Stephen on Twitter) wrote a blog post Content Creation and the Rule of Three which surfaced that number three again.
In design circumstances and definitely in the layout of designs. I do find this quite subjective as to what makes up the three. An example of three pieces of art, art plus text or three clusters of text in my eye all met the rule.
Below you see the yellow flowers on this Post-it® notepad design are the obvious three. I also see three design elements: template text at the top, the entire yellow vertical border design with the flowers and the block of horizontal lines. I'm sure others might see it differently. You'll find that theme in many of my notepad and stationery designs.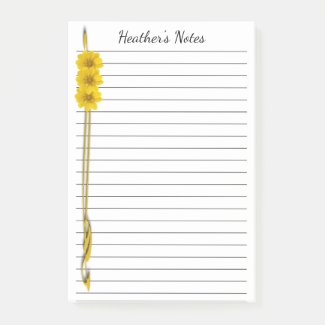 I reviewed some older photographs looking to see where and how I had used the photography rule of thirds, scanned designs in my Zazzle stores to see where I had best used the rule of three and checked some of my posts here on the website for that popular three.
No surprise that in the content here I generally didn't use the rule of three but did see that I had been paying more attention to it in my design and photography.
Do you notice the rule of three in design, photography and content? I would appreciate you sharing the link.