It happens everyday, every minute.
Someone shares appreciation with a thank you.
Most people will admit that they've thanked others for something with a compliment or a business deal.
We meet people in real life and through social media that we appreciate so much and want them to know how much.
Gratitude is a constant on my mind so I decided to add a post after participating in a recent DigiBlogChat on Twitter about
Gratitude Marketing
. Carol Stephen (@Carol_Stephen) and Larry Mount (@lazblaster) run the chat every Tuesday. I'm always excited when I'm able to take part and generally learn something new besides meeting interesting people.
Carol wrote a blog post "
How to Use Gratitude to Empower Your Social Media Campaign
" that some of you might also find helpful.
Carol's post made me think of all my product designs in both Zazzle stores that would make great employee gifts or for volunteers.
I wrote a post some time ago and updated it sharing
A Unique Way To Say Thank
but it never hurts to remind everyone how thank you are of them or what they are doing so here's a new post.
I really like the idea that this colorful multilingual thank you typography word cloud design could be used on a
wide variety of products
which you'll find in TheAspenStand. Here you see business
ties in the three color combinations
.
You can always say thanks with humor like a greeting or note sized card. On this funny cat card you can personalize the cover and inside template text. Leave the inside blank for a special handwritten note or write on the blank left side of the inside.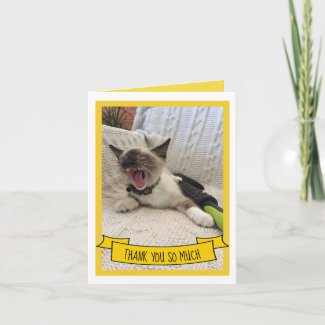 You can find "Thank You" stickers in a variety of shapes to add to mail, favor bags, notes, and other items. In
TheAspenStand
store, you'll find the
three color selection word cloud
like this turquoise and blue heart shaped sticker. Each sheet holds 20 1.5" sized stickers.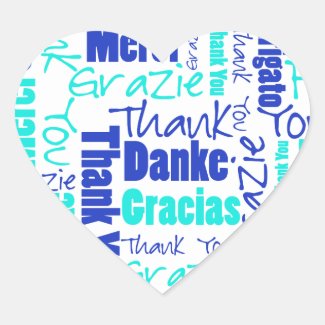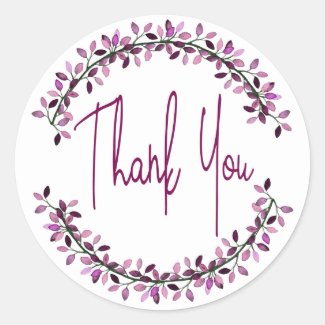 Thank You Typography Chic Purple Leaf Wreath Classic Round Sticker
You can always present a reminder of the appreciation with a gift like this shot glass. Fill a mesh bag with something sweet and a thank you note as an added item.