Do you like to have a welcoming message at your front door? If you would like a change from a plain old rubber mat, I've got some ideas for you from both my stores.
You might also find a few gift ideas for holidays or housewarmings with designs from both stores.
I can attest to these door mats lasting well. I purchased one several years ago and it still looks new. We have four seasons so it's seen mud, snow and lots of simply wet shoes. These are so nice that you can use this them inside at any door or outside. If you do use it outside the recommendation is that it's in a covered outdoor area so it's not directly in the weather.
"The ornament of a house is the friends who frequent it."
- Ralph Waldo Emerson
Some designs are available in two sizes 18" x 24" and 24" x 36" because the design transfers well from one size to the other. On other designs you'll see it may only be available in one size. The mats are 1/8" smooth fleece with a white edge binding on the bottom. It has a sturdy latex backing for a non-slip grip.
You'll find a variety of designs in both stores. Since I feature a large number of animal designed products, I'd be remiss if I didn't share my most popular of all designs which is the handsome chocolate Labrador Retriever.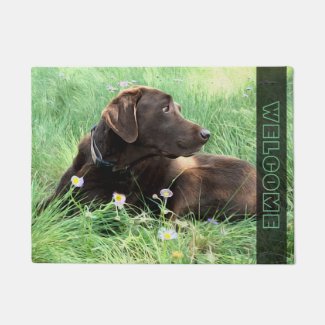 You don't have to live in the southwest to love the styles. Here's the popular design in my
PaPr Emporium
store where you'll find similar designs with
different color doors
. On this 18" x 24" design you can change the "Wecome" to different text or remove it completely.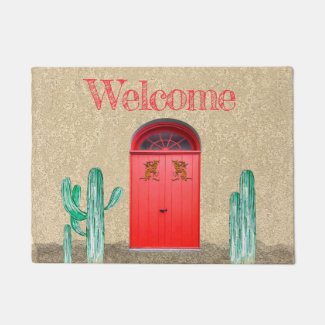 Southwestern Arched Red Doors Saguaro Cactus Doormat
You might like the simplicity of a name and design like one of these two. You'll find a variety like this style in TheAspenStand store.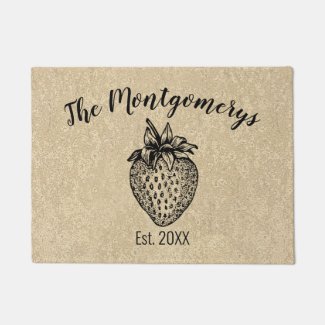 Rustic Black Strawberry Custom Name Welcoming Doormat
There's also some nature photography that would look good inside or outside of a door.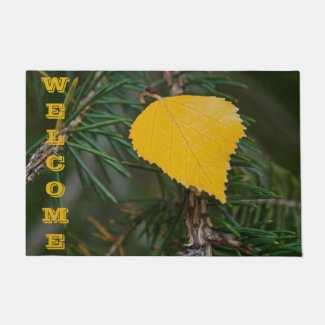 Rustic Fall Aspen Leaf Close-up Photograph Doormat
And it can't hurt of have a little humor at the entryway with a fun photo design like this.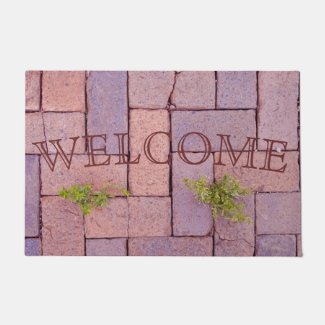 WELCOME Humorous Weeds In WalkwayPaving Stones Doormat
Thanks for checking out the post and leave a comment to let me know what you think of the designs.