Are you a member of the class reunion planning committee or taking care of it all on your own?
Either way, you will be searching for planning and preparation ideas and I have some template ideas that might help you out. In my newest store PaPr Emporium, I've created a collection with recommendations for the event planner(s).
You should find this Minimalist Class Reunion Collection to be helpful with some or all of your needs. There is a dominant black and white theme but I've also added some colorful additions to products for the actual event. You will find save the date products along with easy to complete template invitations as shown below for the pre event needs.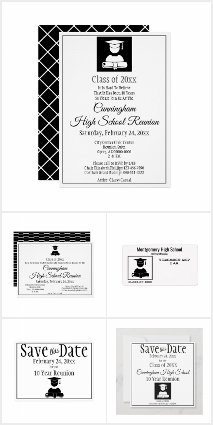 Minimalist Class Reunion Collection
The popularity of the products in this collection are shared in two reviews by customers Lori and Karen.
When you get into the collection you'll find colorful customizable stickers to seal the envelopes
when sending out the invitations
or use them on favor bags at the event.
And the colorful paper label name tags are simple to customize so no one is embarrassed by not remembering a name at the gathering.
You'll also find colorful keepsake gift ideas such as drink ware and these fun can coolers.
If you are the planner head to the collection link to see how the products can help your planning or pass the link to a friend who is working on the project.
Thank you for checking out the post and for leaving a comment to let me know what products you might add to this collection.