Is there a move in your future or have you recently moved?
I can say we've had a fair share of moves during our more than 22 year military careers. We didn't always have the luxury of picking a best time as may be the case with moves for job relocations.
The topic of moving always elicits the story of our move after I retired from the Army. We joke about looking like the preview of the "Beverly Hillbillies" CBS sitcom of the 60s and early 70s. It took all day to load up on a hot, miserably humid North Carolina day. We stayed overnight with our best friends before heading across country. We had filled the largest rental van available. The van was pulling a vehicle trailer with our Jeep which was filled with more items that you could see above window level all the way around.
Also on the trailer was a motorcycle set perpendicular behind the Jeep so at the very back was a green wooden outdoor loveseat rocking chair. I followed in our truck also filled to the brim with more "stuff" and our chocolate Lab. At one point along the route, the rocking chair, although well secured, started to rock like someone was on it. Was there?
There were times that the rental truck would only go 25 miles per hour up hills along the route. As my husband ignited the hazard lights so too did I to warn vehicles coming from behind. It was a LONG trip with quick gas and bathroom breaks and one short four hour stop in a rest area. We can now laugh as we relive it while reminiscing to others.
Whether it's a good time or an inopportune time most of us want to let others know the details of our new location such as the address and telephone numbers if there is a change to those.
Sure, you can use technology to let folks know your status updates but you don't have to go that route. You can send the notifications via the snail mail method. I have postcards featuring my photography and cards designed with a mix of art and photos that may suit your needs.
In my new store
PaPr Emporium
I focus on designing for paper products. I've enjoyed coming up with some unique designs for
change of address
postcards like the ones below. The cards are available in a matte or gloss finish. Some designs include matching return address labels too.
This first new address postcard features a rustic design of a building corner, stove, and red and blue Adirondack chairs. When you visit the link you'll see how easy it is to personalize the front and back, possibly add a personal written note and slap on postage to mail them out.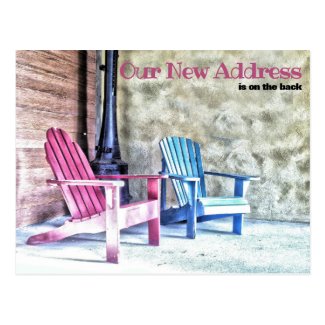 New Address Announcement Adirondack Chairs Porch Postcard
Some folks hold off on a move until the kids are out of school. It's a busy moving time but a lot less interruptive with school schedules and this fun floral design might work well for you. This colorful floral and purple door return address label which has a
matching postcard design
might work well for the summer moves. Imagine how fun the return address label and postcard combination will look together when they reach recipients. You can also order the labels alone when you aren't moving because you can change or remove the template "We Moved" message. These return address labels come 30 per sheet.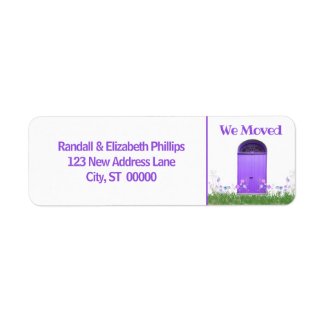 We Moved Announcement Purple Flowers Double Doors Label
Here's another fun idea. I digitally altered my photograph of a cute vintage trailer for this postcard design. It's a humorous way to keep your postcard recipients guessing unless you made a tiny house move. Head to the link for this postcard to see what the postcard design back offers for you.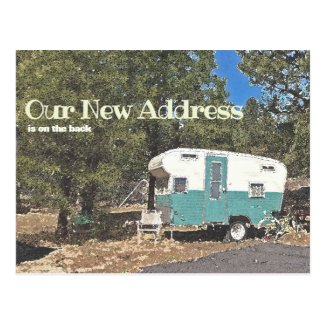 New Address Announcement Vintage Camping Trailer Postcard
Like I previously mentioned, we moved enough times in the military so I had the cards ready to be mailed prior to our move. With all the unpacking and other details of a move, I was ready to drop the change of address cards into the mail and it was done. You can do that too with a colorful summery photography and digital art mix design like this one.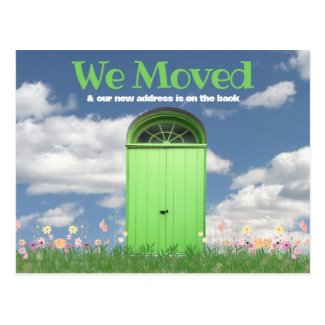 Green Door Clouds Flowers We Moved Announcement Postcard
September through April are the least busy months for moving. I would guess in areas where the weather isn't detrimental this is a good time to pack up and head out. The less harsh weather in the southwest might be conducive to those type moves. This colorful design is another mix of a door photograph and digital art extras. The southwestern style design with cactus and stucco walls is available in six door colors which you'll find in the
Colorful New Address ~ We Moved Collection
.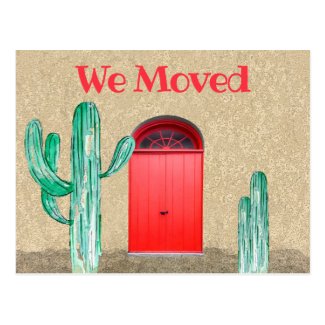 Southwestern We Moved Announcement Doors Cactus Postcard
Do you have a moving story that you tell to others?

I would love to hear your thoughts on using a postcard to make a moving / change of address announcement and on the designs you see here and at the change of address page link in the PaPr Emporium.