You can read a bit more about the route in my previous post
Living Near Historic Route 66 Is One Story Worth Sharing
. That post features a fun segment to drive slowly and grab some shots of history.
Not everyone who loves the history of Route 66 can make the trek across country so this post offers some gift ideas that will make the Americana loving route historian in your life smile. I have a store category that features
Arizona
specials including products designed from photos of stops along Arizona's segments of Route 66.
No matter what stop you make along the route you are guaranteed to find local designs on a gift products including tee shirts. In this post you'll see my personal connection and take on some of these stops in my designs. These t-shirts are available in a variety of styles and colors for men, women, and children.
Oatman, Arizona
I have to say that a favorite stop and destination for many people along the route is Oatman, Arizona. Close to the Nevada border, Oatman offers the unique experience of walking the street with wild burro descendants left from the area's mining days. My tee design incorporates two photos. One photo is the view looking west downhill on the route and the other is the burros on the street. Text elements from the back are added to the pocket area on the front. Head to the link to check it out and view it on other style and color tees.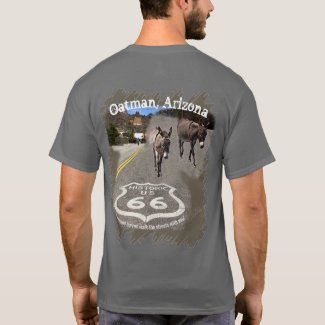 Winslow, Arizona
The next gift idea is a tee from the famous city of Winslow, Arizona. It is famous for the mention in the song "Take It Easy" by the Eagles. The corner is actually a facade wall but with interesting painted details from the song. My original full color Winslow photograph is changed to black and white with a red color elements left on the design. I came up with this red color design idea when I was given a challenge in a photo group. I loved the results so decided to share on a variety of products including this tee. Click the link to find a tee style and color you like.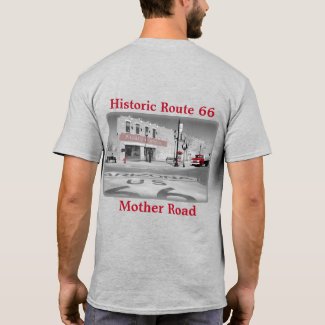 Twin Arrows, Arizona
If you blink, you might miss this sight which is visible right along the south side of Interstate 40 east of Flagstaff. There are remnants of a gas station at this point but those my deteriorate into the land in near time. I added two elements from the Arizona historic route signs to the sky of my Twin Arrows photo to give it more meaning. The pocket area on the shirt front also has these sign elements added. Check it out at the link.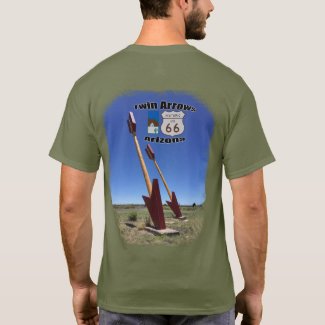 Historic Route 66 ~ Twin Arrows, Arizona T-Shirt
These designs are only found in my Zazzle store TheAspenStand so if you find it anywhere else it's a copyright violation. As Zazzle designers, we like to make people aware of this issue since so many designs are stolen off the internet, sold in poor quality and cheaper price by copyright violaters.

Do you have any great memories of travels along Route 66?
Leave a comment and share your thoughts on the post or Route 66 memories. Let me know if you have any questions.