This beautifully designed window area is in a creative neighbor's home.
I love having plants around the house as design elements in a room, cleaning the air, and bringing nature inside.
I learned that the third full week of September is National Indoor Plant Week from the National Day Calendar so I decided to do a post about indoor plants. Yes, there are celebrations listed daily and more when you follow the calendar.
There's even a website with numerous ideas during
National Indoor Plant Week
to help folks celebrate.
We keep a variety of blooming and non blooming plants throughout the house. I've read houseplants can add to cleaner indoor air besides adding a natural outdoor atmosphere.
I never thought about the statistics as to how much air cleansing is done until I found this post "How Well Do Houseplants Really Clean The Air?". After reading, I'm thinking my plants are simply interior design elements and bring a bit of nature indoors.
Having plants throughout a living environment may not be such a big deal in the summer when we are outside enjoying nature but definitely nice to have in the regions where winter means a LOT of indoor time.
So why not scratch a creative itch by photographing them and getting creative with the photos. I use the cooler months indoors, to have fun with plant photography. Sometimes I decide that a photo might be a nice image on one of my Zazzle products. Not everything goes on prints or canvas wall art. If you follow the blog you've seen my work on a variety of products.
If photography isn't your thing, you can see what I've done with some of the house plant photographs that I've used as a product design and maybe you'll find some interior design or gift ideas.
Not all house plants flower so those that do make great photo subjects. I've had several orchid plants that have lasted much longer than I expected. Here's one that I photographed and used on Zazzle. You can light up a spot in any room with a beautifully designed nightlight. These 3.7" wide, 4" high nightlights have designs printed on Mylar with an added plastic protective cover. The design area pops out and rotates to match electrical outlets with the ground pin at the top or the bottom. The Type A plug is compatible with sockets in the USA, Canada, Mexico, and Japan. The bulb is not included.
This pillow is designed with a bold red Anthurium that I photographed in a hotel lobby then digitally edited. Pillows are a great way to change up the look of any room. You can store them and change the design out seasonally or with decor color changes. Thousands of Zazzle pillows are available in several sizes, styles, and fabric types designed by thousands of creatives.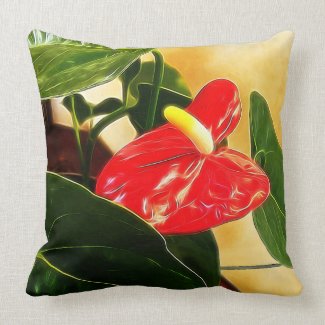 Single Red Anthurium Floral Photography Throw Pillow
Another plant that I have been fascinated with is this goldfish succulent that blooms quite often. I had no idea it would bloom until I saw the orange flowers that are about the same size of the leaves. This plant sits in a terracotta pot on the corner of a shelf with a decorative butterfly hanging off. I edited the photo with a watercolor application and added the blooming plant to several products like this light switch wall plate. This is offered as a single toggle switch plate but you can find other wall plate designs on single, double, or triple toggle or rocker switches.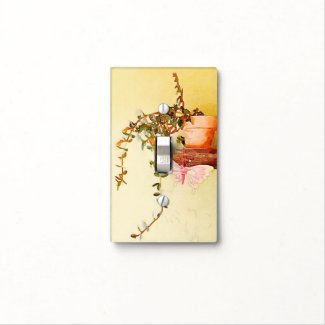 Watercolor Potted Plant and Butterfly Light Switch Cover
One of my very favorite and easy to maintain plants is the Christmas cactus. I have several plants in two different colors. The plant blooms at least twice a year for me. I added a close-up photo of a white bloom as a wall clock design. For those who still love wall clocks, you can use this as a design element on any wall. The clocks are available in 10" square and round and 8" round styles. These lightweight acrylic wall clocks take a AA battery so you aren't tied to a nearby electrical outlet or have the wire hanging off the wall.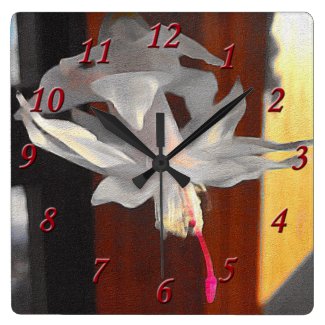 White Cactus Flower Square Wall Clock
Do you have plants in each room? Let me hear your thoughts and experiences on houseplants or feedback on the post and share this post with a friend.