I am well aware that there is a love, hate relationship with Valentine's Day. I've observed that people either love Valentine's Day or totally oppose the concept. I have found there is no in between for a mediocre appreciation of it. People get stressed over what to get, whether a certain gift will insult someone or whether someone might feel left out. So to avoid the stress some people don't even recognize the day.
So if you don't plan to go all out by sending cards to all your acquaintances, friends, or loved ones just to let them know you care, I offer you some ideas that might be best individual valentines gifts for her and for him.
You will find quite a few great ideas for a total surprise on Valentine's Day in the Zazzle marketplace. I'm sharing two of my products and five others I found to be simple yet send a special message.
Personalized Teddy Bear In 3 Sizes
Zazzle recently offered this adorable Teddy Bear in three sizes ~ small 11", medium 17" and large 21". The eyes, nose, and mouth are embroidered for safety and durability. The tee shirt allows you to add a message, photos or digital art. The adorbs Teddy Bear below with my lighted heart fractal design allows you simply fill in template fields to change the text and it's personalized. You'll find more than
350 Valentine's Day themed Teddy Bears
from which to choose in the Zazzle Marketplace.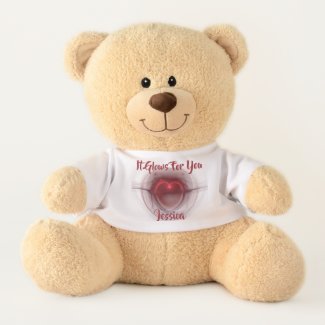 Personalized Sweets for the Sweet
Sweets for the sweetheart may not be for everyone but if it is for your special someone, I am betting that you didn't know Zazzle offered personalized boxes of chocolate. Well, now you know it chocolate is an option at Zazzle.
You can order chocolate with a specialized message on the box cover and on the chocolate. The chocolate is available in a mixed selection of 45 pieces of milk and dark chocolate as you see below with my lighted heart fractal cover design. You can also get a 2 lb block of your favorite chocolate. You can peruse more than
1900 boxes with a Valentine theme
.
Lighted Heart Artwork Design 45 Piece Box Of Chocolates
I went cruising the Zazzle marketplace to find some cute and simple ideas for those of you still wondering what do to for a unique gift. I found this adorable designed candy tin for you. This sweet teddy bear tin can be ordered empty for you to fill with a special surprise disguised as candy (hint, hint).

And if you don't have a surprise to fill it, you can choose something sweet right there on the product page. The tins can be ordered with mints or a favorite flavor of JellyBelly™jelly beans.
Keeping with the sweet theme, you can choose a more sophisticated design like on this Snip Snap candy tin featuring an elegant heart design. Although the title says "gold glitter", the details are simulated in the artwork and no actual glitter is used in making the tin cover.
This can also be ordered empty or filled with a favorite jelly bean flavor or mints. You can find more than 4800
candy tins, bottles, and jars featuring the Valentine theme
.
Gold Glitter Flourish Valentine Candy Tin
For The Guys
As I mentioned earlier in the post, I'm not going to forget some ideas specifically for the guys. There is a fun collection of more than 25
Men's Boxercraft Cotton Boxers
designed specifically for Valentine's Day. The100% cotton boxers come in black or white and are available in sizes S-2XL. The design features a classic boxer cut, false fly and longer out-seam with an elastic waistband. These are unisex fit so they can be worn as underwear or sleepwear. You'll find the design below in that collection.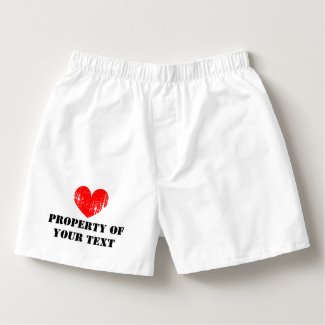 Custom PROPERTY OF heart boxer shorts for men
Although not everyone wears ties to work, this
Valentine's Day Zazzle Apparel Tie Collection
of more than 600 ties might offer a great gift for those who do. The ties are 100% polyester with a silky finish. The tie is 55" long and 4" at the widest point on the bottom. This elegant gold heart outline design below is part of the collection.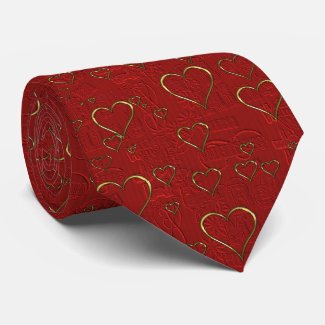 Red Gold Hearts Valentine's Day Men's Tie
And for the guy's who are more accustomed to a casual look, I narrowed my search down to
Valentine themed tee shirts
with more than 1100 designs currently showing. This adorable Labrador design is included in that collection.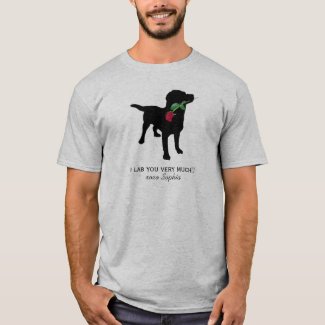 Black Lab Valentine Dog holding Red Rose T-Shirt
So there you have some recommendations and links to peruse for more ideas before giving up and waiting until the last minute for a gift.
I look forward to you letting me know your thoughts on the holiday and the post in the comments.