If you spend time on Twitter marketing you might like this idea.
I learned about using
Trending Topics
a while ago but had it reinforced recently in a Twitter chat. As often as I can, I join in on the #DigiBlogChat each Tuesday at 10 p.m. pacific time because it's pretty much a fact that I'll learn something new plus meet interesting entertaining, and wise people. The chat is run by
Carol Stephen
and
Larry Mount
.
Carol's blog post
How To Use Trending Topics For Your Business: Twitter Success
from a week prior to the Twitter chat reminded me of the
Trending Topics
option. Carol's blog post got me looking at how to wisely market using trending hashtags for Twitter topics.
The day I participated in the #DigiBlogChat about
Trending Topics
it just so happened to be #NationalFoodDay and it was trending on Twitter.
I decided to promote a couple of food-related products that day using the National Food Day hashtag. I didn't have a great response with these two product tweets but it's tough to get people to interact since so many people aren't interactive because they schedule tweets or "tweet and run". The chat has given me ideas on how to wisely use trending topics, especially on Twitter, for marketing.
After looking at the tweet for the coffee bean cover notebook that day, I did the ole "eye roll". That one might have done better if I hadn't misspelled the trending topic as #NationalGoodDay. Oops!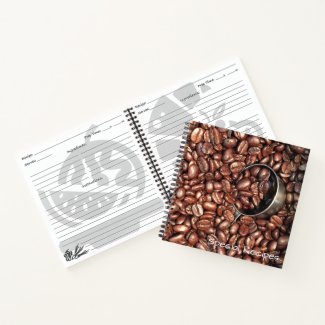 I got several likes and retweets from folks I'd not seen in my twitter feed before with this raspberries and almonds watercolor design below. I made sure to thank them too. I've been marketing on a few interesting trending topics since that day.
If you are wondering about the two notebooks, let me give you some additional information. These 8.5" square notebooks offer a choice of six binding colors including the black and red you see on the ones here. You can also select from eight unique page designs including the recipe layout here. The other inside page designs include a variety of ruled lines including one for writing practice, graph, and blank for sketching.
The images you see on these two are featured on the laminated front and back. covers. The notebooks come with 60 sheets for 120 pages inside.
Would you consider participating in a Twitter chat to market your products? What chats do you currently participate in?
Leave a comment. I'd love to read your thoughts about the post.