A lot of families STILL spend time together working on jigsaw puzzles. If you put away all the tech gear and sit around working on a community style project you might learn a few things. You might even find a new way to enjoy each other.
Puzzles come in quite a variety of shapes, sizes, and piece counts. For me the more pieces the more fun. I remember trying to finish up one while on a business trip and staying at vacation rental style accommodations. It's addicting when you know your time is limited.
But what do you do with them once they are finished? Some go back in the box but you may have some that you might like to keep. You can
save those memories
as I discussed in a previous post on the blog.
Let me pique your interest since Zazzle offers thousands of jigsaw puzzles by thousands of independent artists and photographers. I collected a few from Zazzle designers that I'm familiar with from online groups to share with you here.
This interesting geometric
Fractal Squared
20", 676 piece square puzzle is designed by Jaclyn (Jackie) Hughes. She manages
The Gift Of Sass Zazzle shop
where you can find many more uniquely designed puzzles.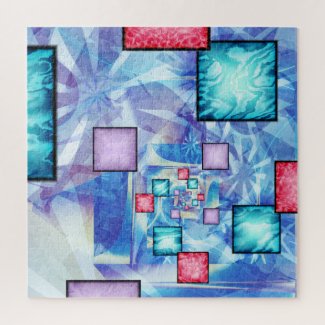 You'll also find this fractal design titled
Glowing Beauty
14" x 11", 252 piece puzzle in Jackie's store too.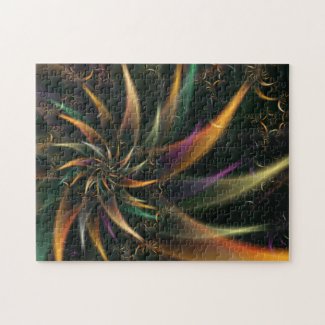 Artist Sally Lanier manages Painted Dreams Designs store on Zazzle. I found this beautiful
Buckskin Tobiano Paint Horses
14" x11", 252 piece puzzle in her store.
Donna Cervelli is an artist and designer who offers wonderful original work in her Zazzle store HeART and Soul Artwork. I remember seeing her post this beautiful
Summer Sunset
piece on a different product and thought it would make a great puzzle. Now you get to see it as an 11" x 14", 252 piece puzzle.
This
Autumn Garden
puzzle of Donna's is another I like since autumn is such a colorful season in some locales.
Lucy Williams manages several product-specific stores on Zazzle. You'll find her
English Rose Macro
8" x 10", 110 piece puzzle in her Urban_Lights store.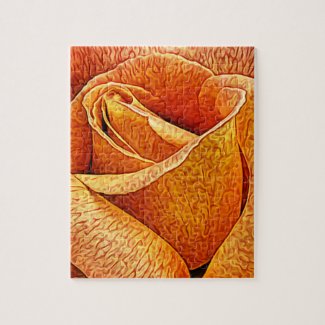 Now that I've got you checking out cool puzzles, I'm also sharing another method to preserve a puzzle that I found on the blog
Between Naps on the Porch
titled
How to Save or Frame A Jigsaw Puzzle.
Leave a comment to share your favorite puzzle story or your thoughts on this post.