Variety is a wonderful thing. Of course, it's what makes life interesting. You've seen it written many ways but you know it because you are not like anyone else. You may have some similarities to others but that's probably minimal when you get into the depths of it. I love to look for what's different.
Just as some photographers favor humans over other subjects, I favor nature. I blame it on being an introvert but that's not a bad thing. And I do like to have a little fun with my subjects as you see Mr. Lego moving that large flat top white mushroom through the rugged pine straw and weed terrain.
Yes, mushrooms out in natural surroundings are one of my favorite photography subjects when I can find them in our high desert environment.
Several years after moving here I noticed the interesting variety of mushrooms while out walking during our rainy season, which we call monsoons here.
I've found quite a variety of mushrooms popping up out in the forest, meadows, and prairies where I walk the dogs. Some time back, I wrote a post titled "
6 Captures Exposing The Low Down On Perspective
" which shares photographs of a variety of mushrooms we saw that year during our walks.
I'm never one to shy away from crawling around on the ground to try for a better angle when getting a photograph. The dogs have a great time sniffing around and thankfully aren't interested in eating them which could become a problem.
I've walked the woods many years and never saw a true
Amanita Muscaria
mushroom. The photograph below was a chance finding. I happened to change direction after not seeing any mushrooms and caught a glimpse of the color from this one in the brown pine straw recently.
The orange capped mushroom below was found on one of the first hikes many years ago when I started looking for mushrooms. I have this photograph framed and hanging as a print in our home. I also offer this photograph as a wrapped canvas seen below as one of the several products featuring this
orange capped mushroom
busting through rotted pine wood and pine straw in my online store. Click the image to check it out.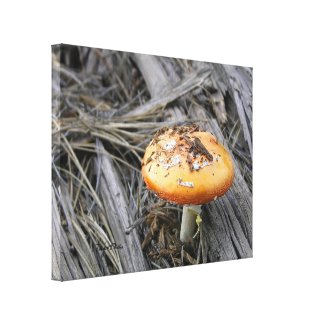 Colorful Mushroom Busting Through Canvas Print
Several years ago we traveled through Alaska. There were so many mushrooms that I had to narrow down what I selected for this post. We live in a high desert so we don't see the lush green environment like we did there. This vibrant green moss covered tree stump with the mushrooms growing out of it was the top choice for this post.


The last mushroom photograph I share because it turns out that I actually ate these. This is what I was told it was called and found in research as a Lobster mushroom. It's said to have that title since it looks like the color of a cooked lobster. We were at our neighbor's home once for dinner and she served these with a dipping sauce. They had the density of cauliflower without any crunch. I really worried about getting sick after trying them but there was no problem at all. Having been out mushroom hunting (for photographs only) I now know the areas where I'll find these popping out of the pine straw.
What is your favorite photography subject?
Are you one to get on the ground or to climb up to get a better view from above for a different angle of a photo subject?
Leave a comment to let me know your thoughts on the post and answer the questions.