Are you an aural or visual person?
I know that I've always been a visual person. I'll gravitate to a photograph and caption before I will look at a block of copy. That might be why I enjoyed newspaper layout and design rather than writing the material for the medium. I wrote a bit about this in my recent post about using
your observation skills
.
Something I take in on my observations is texture. I look at the nooks and crannies, consistencies and I'm not too shy to touch something when it's appropriate. That reminds me of one visit to an art gallery. I moved in toward a piece of work to get a closer look at the texture when the alarm reminded me (and everyone else) that I was too close.
I was able to brush my fingers along the subject of the image below. This was a concrete block mixed with shells. It was the setting for a plaque on a corner in downtown Fort Lauderdale, Florida. I was fascinated by the texture.
We were in downtown Flagstaff, Arizona one day and I am always observing. I happened to see this segment of red paver stone around an old railroad building that had weeds growing between the stones. I must admit that I'm OCD about pulling weeds but I thought this was a great background and texture photograph. The rough, firm stone texture contrasting the living flexible weed was my draw.


Recently, Zazzle added doormats to the line of products and I thought it would make a great design. I guessed right because that was the first sale of my growing selection of doormats. You too can greet guests with humor at the door when you lay out this Paving Stones and Weeds In The Walkway Photograph Door Mat.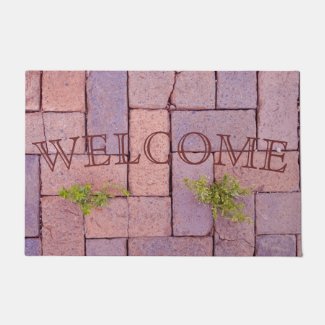 Paving Stones and Weeds In The Walkway Photograph Doormat
We live near so many interesting little towns and communities in northern Arizona. It's nothing to head to one on weekends to walk the streets, check out the sights and grab a meal. The photograph below is Williams, Arizona which is also known as "The Gateway to the Grand Canyon". The exterior was recently renovated when I took this photograph. I loved the contrasting texture of the brick and stucco design.
I remember seeing something interesting from a distance while walking in a park near Lake Charles, Louisiana. I started heading out toward it and saw the textures and colors from afar. Apparently, there was a building or portion of a pier at that location and blocks of this concrete and brick were along the water.
Being able to actually touch objects I find that have interesting textures is always a plus. While on a trip to Zion National Park, Utah, I got that opportunity. This is one close-up of the rock texture. Afar or close, the natural formations at Zion are amazing.
Are there particular textures you've used as a photography subject or background for text block?
Are you one to get on the ground or to climb up to get a better view from above for a different angle of a photo subject?
Leave a comment to let me know your thoughts on the post and answer the questions.