Whether we use them to keep from scratching the surface of your work space or to steady the optical eye of the mouse, mouse pads are still used by many people. Depending on the design, they are also a way of adding a little bit of "you" to the workspace. They even make a nice sized coaster but keep that liquid away from the keyboard.
Mouse pads were one of the first Zazzle products that I originally started adding my photography and digital art. In the horizontal format, photographs are a fairly good fit right from an image source.
I have purchased several mouse pads from Zazzle and was very pleased with the manufacture and printing quality. When you initially open the package there is an overwhelming scent of either the paint on the cloth cover or the non-skid backing. Thankfully, the smell doesn't last long once it is out in the fresh air.
All mouse pads are 9.25" x 7.75". There is a durable, dust and stain resistant cover featuring the design over a non-slip backing which also offers cushion. They can easily be personalized just for you or as a special gift. Looking to make it personal with
your
photograph or art? That's easy too.
You'll find more than 150 of my digital art and photography designed mouse pads like the ones pictured below.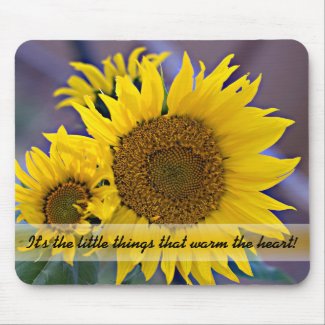 On designs like this Sunflower cluster photograph, the text is offered in a template field that you can change. If you remove the text, you'll probably want to remove the color bar behind it so you would have to go into the customize option to remove that too.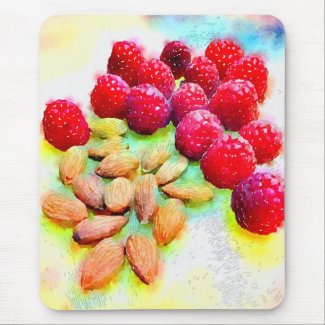 On a design with no text like this digitally altered photograph of almonds and raspberries, you can go into the customize option to add your text. Nearly all of my products have that option available for you to do your thing.
A Colorful Eclectic Collection
Of the total 150+ designed mouse pads in
TheAspenStand
, you'll find quite the eclectic collection of both templates or simply a photograph and art without text.
There is an abundant collection of colorful
floral designed mouse pads
like these lilies and sunflower photographs with or without text.
You'll find a number of abstract and digitally altered photographs among the collection of digital art mousepads in the store.
Share how you have you used mouse pads in an alternative manner in the comments below?