Inspiration comes from a variety of places, things, and even people. I was a member of a once active social site that had a photograph group that inspired us to enter weekly challenges.
The idea of winning a challenge wasn't even tops in my mind. The thought of being challenged to do something new or different in photography or editing was what drew me into participating.
During some of those weekly challenges, I couldn't come up with piece of work to submit or wasn't happy with what I'd come up with so I enjoyed seeing the creativity of others who submitted their entries.Then there were weeks where I was very pleased with the work I had put into the photographs. These
Filtered Reality
challenges, as the group was known, were a great way to read constructive critiques.
I decided to start using some of the photographs that I had done during those
Filtered Reality
challenges as designs on Zazzle products where they fit most appropriately. This 20" square polyester throw pillow design with a color splash of goldfish plant flowers and a pink and peach butterfly ornament is one of my recent additions to the store using one of the challenge photographs. You can find other products featuring this color splash design under my
Color Splash Butterfly Still Life Photograph
.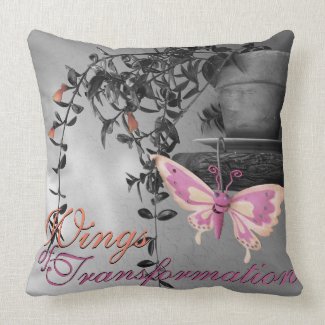 One of my most favorite edits was of a photography I took along a segment of Old Route 66 on the corner in Winslow, Arizona. The town built a special corner after it became famous by the Eagles song "Take It Easy". The black and white photograph has a red color splash of items that were actually red in the original color photograph. You can find a variety of products featuring
red color splash
to include this trendy metal print below.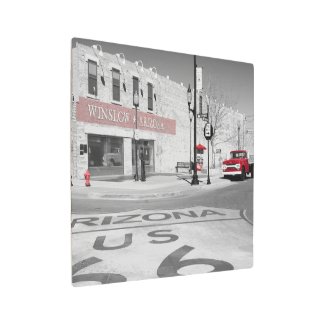 There is so much to see year-round where we live. Generally, I find at least one new and interesting item to photograph when I'm out walking the dogs. The next photograph was taken with my iPhone. I immediately could imagine this in sepia tone as you see it here. You can find other products including this mousepad at the
Sepia Thistle Seed
category in the store.
The photograph below was originally yellow and red Gerbera daisies that I had taken from a larger bouquet. I placed these two in a large black glass beer mug and shot from directly overhead. It may have been a week where the challenge was highlighting red so this was the alteration.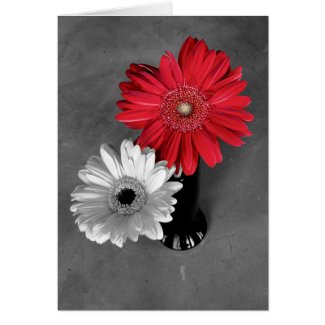 The day our neighbors brought home an adorable Alaskan Malamute I was there to check her out. She's a BIG girl now so seeing the puppy photos is a fun reminder of her first days. I decided to isolate the tongue and rope chew toy with bone since they were the most colorful. I then decided to reduce the opacity of those two items so they aren't as brilliant as in the original color photo.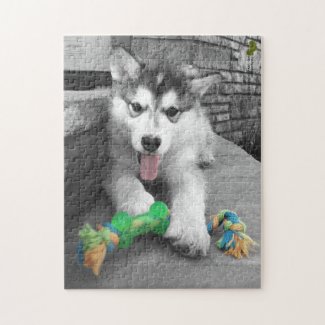 Alaskan Malamute Puppy Color Splash Photograph Jigsaw Puzzle
So there you have it. Five of a number of photographs that I had fun altering then decided to add to my Zazzle products. I'd love to read your comments so get right to it. ;-)
Thanks.