Do you remember as a kid trying to put shapes into their designated slots or even watching children in your life do that now?
How about the pleasure of popping into place that difficult to find a piece of a huge jigsaw puzzle?
That's what it's like for me when I find a photograph long forgotten in an online folder. It's the same when I find a piece of work that was used on older Zazzle products and now can be used on some newly offered products.
Since we'll soon be seeing Jerusalem Artichoke and giant sunflowers blooming in our area I've been looking at my older photographs. Some of the sunflower photographs I've used on products in earlier days and some are just out of older folders of the flowers.
Zazzle has a number of new products and there are products the I've never added my work. I decided to share a few of the different sunflower photographs on the different products.
Jerusalem artichokes are also identified by a variety of names including sunroot. This species of sunflower is native to a variety of locations throughout the United States. According to several sources, the plant tuber is widely cultivated as a root vegetable. The photographs of the tuber root look like a ginger root.
This mouse pad below is a photograph of Jerusalem artichoke sunflowers. The original photograph was digitally altered and I added texture to it. You'll find an entire category of products in a sunflower category that features this image.
I separated several Jerusalem artichoke sunflowers from the background where they were shot and edited them to place three together. This arrangement is seen on the Zazzle HEART apron below. You can find this flower arrangement on a variety of products in the
sunflower category
.
Giant sunflowers take some time to grow and are usually still trying to bloom as our growing season ends. I've photographed these sunflowers in different stages of growth. The photograph on the acrylic wall clock below shows off the hair-like features of the bud touched by morning dew and nested in leaves. The number template can be removed on this clock. You'll find several products featuring this
dew sprinkled sunflower bud
in the same sunflower category as the Jerusalem artichoke sunflowers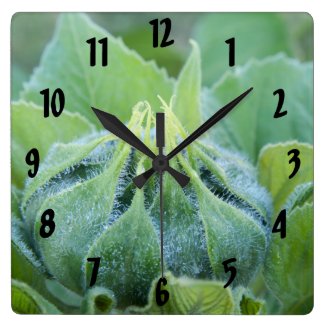 These flowers are a great way to get photographs of bees. I remember seeing bees dead on the seedhead. I wasn't sure if they froze during the evening or if bees can overdose on pollen. The pillow below is one of my photographs with a bee enjoying time on the giant sunflower. You'll also find a variety of products featuring this photograph in the
store category of sunflowers
.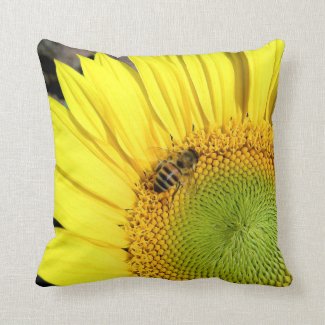 by
Exit178
Some of my most recent additions to the store sunflower category include this image of giant sunflowers clustered together. The indoor floor mat below is a way to bring nature right into your kitchen, laundry or other interior room.
Clustered Sunflowers Close-Up Photograph Floor Mat
by
Exit178
Are you a sunflower fan? If you would like to see one of these photographs on a product that isn't currently available, please let me know. I'm happy to add it for you to view.
I'd love to know your thoughts on the products I've chosen to share in the post featuring several species of sunflowers and in different stages of growth.