It's been just over 10 years for us in northern Arizona and we still find new roads, new adventures, and interesting scenes.
I remember so many of our adventures in the first year of life in northern Arizona. We spent time exploring well traveled and not so well-traveled dirt roads. The scenery was beautiful and there were constant surprises along the roads. I was also getting back into photography while learning how to use a digital camera so that was another reason to roam the countryside.
This old barn and stockyard is one location we pass all year now. We love sitting along that road on summer evenings to see tens of elk gather in the field across the road. I have photographs of this barn area during our rainy "monsoon as we call it" season with beautiful cloud formations and lush green grass. I've even passed there to see other photographers out along the road.
I was lucky enough to get out there for this photograph below after we had several feet of snow one winter. The storm weather hadn't moved out of the area as visible by the gray sky but the snow had stopped falling for the time being. I loved the color contrast of snow to structure during that light.
A recent weekend at Zazzle had several surprise sales for me. One of the sales included this print of a rural winter scene. It reminded me that
Zazzle no longer offers framing options for prints/posters so I wasn't sure how that would affect print sales.
I realize no frames won't bother some customers but for those who want a ready to mount on the wall product, it might. I also realize that folks who purchase a product as a gift might want a print that is immediately ready to mount on the wall.
Since Zazzle now offers acrylic HD and metal prints, I decided to add this photograph (and others) to one of the new options like this HD Acrylic print below.
Snowy Rural Barn Scene Photograph Acrylic Print
You can add a visit by Mother Nature to any wall with this 20" x 16" HD Acrylic print of a rural winter scene of an old barn and stockyard.
This .025" thick high definition Grade-A acrylic style print can give any wall a contemporary look. According to Zazzle, they are art gallery quality. HD Acrylic prints are available in eight sizes. The print is fitted with french cleat backing for easy and secure hanging (shown below). All the work is done for Zazzle by
Acrylic Idea Factory
in Tucson, Arizona.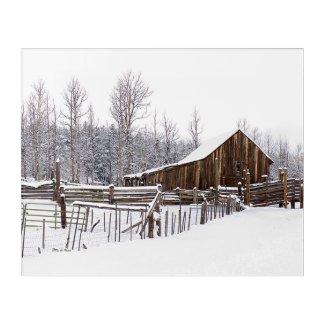 You can find this
Snowy Rural Barn Scene Photograph
as a print, Acrylic Print or Metal Print at this page in
TheAspenStand
.
I would love to hear your thoughts on placing a frameless HD Acrylic print on your wall
so leave me a comment about the photograph and/or HD Acrylic print style.