Updated 02/03/19
On a business trip to New Orleans, Louisiana I found a very relaxing spot away from the busy downtown activity. You might not expect it to be at the New Orleans Yacht Club but the area is called "West End Park." It is a beautiful greenbelt park featuring huge old oak shade trees, picnic tables, gazebos, benches and more. On a drive around later in the day, I saw groups gathering for children's baseball practice.
A sidewalk borders the park offering a nice walking or jogging loop all the way around. At the far end of the loop is a serene area featuring a stone bridge over a small pond. The sidewalk divides and leads to the bridge. On the far end of the bridge, you walk into that end of the grassy park.
I arrived out there on a beautifully calm day. The reflection of the bridge and surrounding area framed on two sides by greenery features the arched stone walkway over the pond. I offer this photograph in my store as a 16" x 20" print titled
"Reflection Bridge".
You are offered the chance to add a mat and frame once you add the print to your shopping cart.
I also added this serene bridge reflection photograph to a 16" x 20" x .75" wrapped canvas ready to hang.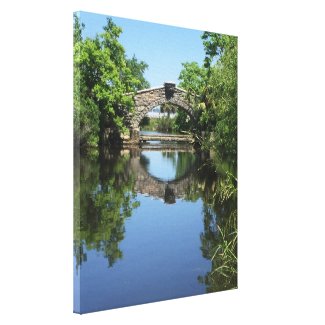 What favorite areas did you find while visiting New Orleans? I would love to read your thoughts on my photos and post.