(Updated 12/12/2017)
Raise your hand if you drink coffee. Hurray for all those raised hands. I'm with you. And hurray for the tea and hot chocolate drinkers too.
I have to believe you know others who LOVE coffee. Me too. Lots of them. Some days that 20-ounce mug gets filled more than twice. For those who don't drink a "cuppa", I bet you know folks who do so keep reading.
This week I'm posting about drinking...well about implements for drinking ~ mugs, china cups, and those lovely demitasse cups for espresso.
I'm sharing the Orchid Floral Blossom design as an initial display of the products again. I'm really partial this design. But you'll see I show you one of my colorful digital art designs further below.
This week, I'm sharing products with the Golden Yellow Mini Square design which is one of several digital art geometric designs in the store. All of the mugs/cups
reviewed here

are listed as dishwasher and microwave safe.
Espresso
I begin with the demitasse sized cups because I'm an espresso fan. So now you too can get your espresso fix in style with a custom 6 oz. cup. They are white ceramic with your design selection. Although the majority of reviews were five stars, I noticed several of the lower ratings mentioned the size was too large for a shot of espresso.
I did a few searches about shot and cup size to find that the average espresso shot size is 1-3 ounces and Coffee Info states, "
A 6 oz cup with a single shot of espresso will taste very different than a 12 oz cup with a single shot of espresso. A smaller cup will do the espresso more justice and it will be much quicker to make."
I checked one of my own espresso cups purchased many years ago and it holds 4 ounces. When I make some with my old style stove top espresso maker, I can fill the cup twice (3 ounces each).
But everyone has a preference so you get to make the call.
Elegant Bone China
Mini Tile Designed Bone China Mug
The bone china

cup is all white with your selected design. Out of 40 reviews, the overwhelming majority were four and five stars.
One reviewer said "They were light and delicate which you seldom see in a mug. They are just awesome" while another reviewer said, "This cup is light and elegant--perfect for a smaller cup of coffee."
Since Zazzle doesn't mention how much the cup can hold I tried finding it in reviews but I was unsuccessful. I have to assume by the review comments that it holds less than the classic mug of 11 or 15 ounces.
20 Ounces Please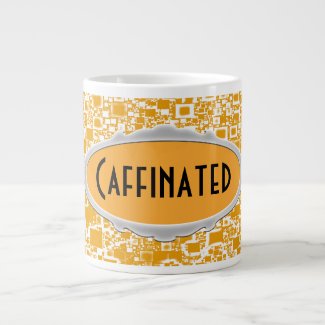 Golden Yellow and White Mini Tile Design Jumbo Mug
Put it all in the JUMBO custom mug says Zazzle. Perfect for soups, ice cream, chili, or A LOT of coffee. The jumbo is 100% white ceramic sporting the design you select. With 452 reviews at the time of this posting, 92% gave this mug a 4.9 out of 5 rates.
Seven Styles of Classic Plus
Golden Yellow and White Mini Tile Design Mug
Se
lect from seven
mug styles inclu
ding the pictured
Ringer Mug

. Some of the style choices are available in
11 or 15 ozs. Among the styles
are
the travel mug, frosted mug, coffee cup and a stein.
This
Ringer Mug
style above h
as the
mug h
andle and lip colored in black. You can select from 10 colors including black.
Remember if you don't see a matching design you like in TheAspenStand you can search the Zazzle marketplace because there are thousands of talented artists and photographers adding new work to products daily.
What size mug fits your drinking needs?
I'd love to hear your comments on the post or these particular products.