Updated 11/6/2019
Sometimes saying
Thank You
just doesn't seem like enough. Are you looking for a different way to show thanks to someone special?
Here's a ceramic ornament idea for you with a red and black
Thank You
word cloud design in several languages? It's a great way to use the ornaments for occasions other than Christmas. What a great way to show gratitude to an employee, a friend, players on a team, volunteers or a coworker!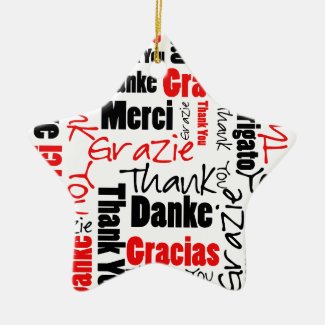 This ornament idea is nice because the front has the word cloud and you personalize the back for your special occasion. Check out the eight shape options that are available on the product page including a heart shape and two silver color metal premium styles. The premium styles only offer printing on the front due to the metal back.
This is what a custom ceramic ornament back can look like. You can fill in the template fields to change the words and typeface style in the
Customize
option right on the product page. The ceramic ornaments come with the gold string and the metal style hangs from a red ribbon.
So now that you've seen what you can do with this unique keepsake
Thank You ornament
click the link to check it out. You can also find this word collage on other products when you visit he
Thank You Category
at TheAspenStand store.
I have purchased multiple ornaments as gifts so I can attest to the excellent printing quality and color.
How can you see using this
Thank You
designed ornament?
Why would you consider using a keepsake
Thank You
like this?
Please leave a comment or answer the questions to let me know your thoughts.
THANK YOU.